Smoggy.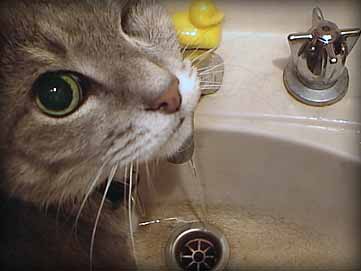 A puddy with a purpose.
It was Smoggy's destiny from day one, to be the face of Faster Pussycat Productions. Born on the 1st of April 1989, he had an extremely comfortable life since being chosen from two other kittens at the RSPCA, Victoria in August 1989. Sadly, there are not many pictures of him as a kitten because he was adopted. Growing up in Middle Park, Smoggy spent most days plotting the demise of the sparrows he would watch through the front windows, and so he spent most of his formative years by the sea side in a very lazy manner.
The fickle finger of fate.
In 2000 he moved to South Melbourne and lapped up all the exciting sights and sounds that living so close to the South Melbourne Market brought. Unfortunately on an ordinary Friday in March 2001, I found that his left eye was filled with blood and he was rushed to the vet. He was diagnosed with glaucoma (pressure behind the eye). It all happened so fast but thanks to his vets, Roslyn Nichol & Associates (Elwood) and the Animal Eye Care Clinic (Malvern), he had his eye removed and he came out fighting fit and better than ever. With help from his medication for high blood pressure, Smoggy had adjusted well to his new monocled view to life... after a few bumps in the night.
A long-deserved retirement.
Since moving to the retirement home in Elsternwick, 2003, Smoggy lost some sight in his good eye but that didn't stopped him... what a little trooper! Life was good to Smoggy with three years of enjoying sun bathing on the balcony and fireside sleeps on his favourite cushion. On October 1st, 2006, he had a health hiccup with a seizure, and then was diagnosed with a heart murmur and hyperthyroidism. He was doing really well on his medication but then one day, a month later... his heart just stopped and he was gone. He lived a full and wonderful life of seventeen and half years and he will be in our hearts forever for being a purrrfect little guy! Rest in peace Sweetie. x
---
Smoggy made an all-out assault on the web.
Web domination by design.
We're convinced that the web was invented for the spread of pictures of pussycats. Smoggy concurred and put this into action! See his many moods at the following sites:
The life and times of Smoggy the wondercat:
This month's quote — 01/06/14
Impossible
"It is impossible to keep a straight face in the presence of one or more kittens."
Cynthia E Varnado, American author
Smoggy held court at www.flickr.com
A fresh sample from flickr:
Click an image to visit Smoggy at flickr