Home of fast, furry-ous and always groovy graphic design.
Faster Pussycat Productions – a small but tenacious graphic design business.
Born to a tabby on the 5th July 1994, who would have thought we were the runt of the litter? With decades of experience in the alleyways of advertising and marketing, we can make your project purrr… promise.
Obviously Russ Meyer's 1965 film "Faster Pussycat! Kill! Kill!" is a favourite of ours. "A Cat on a Hot Tin Roof" is also a favourite, but Smoggy always hated the concept.
This pussycat is ready to pounce…
We can conquer any project, big or small, in record time. Print advertising, stationery, CD/DVD art, logos, website design and development, graphics for TV and film, or whatever your project requirements or deadlines are.
…and always on the prowl.
We take pride in completing jobs on time and within budget. This makes for happy clients and, for us, that's the best advertisement. With an impressive client base and with a wide range projects completed since 1994, Faster Pussycat Productions is the purrrfect partner for your business because we always go beyond the call of duty when it comes to providing extra value. It has become second nature to us. Knowing that every client's needs are unique, we cultivate enduring working relationships and this equals repeat business.
So if your previous experiences have left you feeling cold, choose Faster Pussycat Productions and from concept to implementation, we will make your project purrr.
The furry face of Faster Pussycat Productions!
Smoggy has been Faster Pussycat Productions' mascot since day one… July 5th, 1994. More about Smoggy.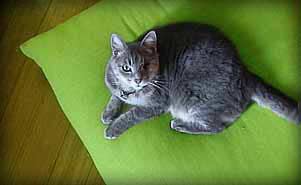 The evolution of our website designs:
2001 | HTML

Our first kitten-steps into the web was modest. It's fascinating to look back and see where we started from! fppdesign circa 2001.
2003 | Flash

The next evolution of fppdesign was an all-Flash extravaganza. Those animations were cool! fppdesign circa 2003.
2006 | Web Standards

Today, the fppdesign website benefits on so many levels by conforming to modern Web Standards as recommended by the W3C.